Bulletin Board . . . . . ?

Fisherman from Chinnathurai rescued after falling into sea, died in hospital
-

[Added @ 24-11-2019@20.26.00(IST)-]
Mr. John (age around 60) from Chinnathurai died due to an accidental fall into sea while his boat was in deep sea for fishing. John fell off the boat accidentally when it was moving. Fellow fishermen rescued him by jumping into sea and brought to shore in Rajkot – Gujarat where he was admitted to hospital for treatment. But John suffered breathing difficulty and breathed his last in the hospital. His body will be brought to Chinnathurai for burial. People recall that deceased John's son 29 year old Suresh also died after falling in sea in 2013 whose body is never recovered. Read more at the below link.

URL-1: https://timesofindia.indiatimes.com/city/madurai/60-yr-old-fisherman-rescue .....


What is New in Thoothoor.COM?

St.Thomas Community Hall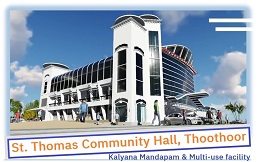 Parishes in Thoothoor Forane




Our Location Map