Bulletin Board . . . . . ?

Mr. Nayakam (Karate Nayakam) from Thoothoor passed away
-

[Added @ 14-11-2019@23.12.33(IST)-Edited @ 16-11-2019@08.31.42(IST)]
Mr. Nayakam (aged 52) from Thoothoor, widely known as Karate Nayakam, passed away today 14th Nov 2019 at Ashari Pallam Government Hospital. He was not well for few months due to liver related illness and died while undergoing treatment. His burial mass will be held at St. Thomas Forane Church in Thoothoor on 15-11-2019 at 4 PM.

Nayakam was an outstanding Judo champion during his young age in 1980s/1990s and had won many district and state level Judo Championships in Kerala. Recently in 2013 too, after a long gap of 15 years, he had secured Gold Medal in Ernakulam district level and Bronze Medal in Kerala state level in senior division. Visit the below URLs to know more about his achievements in Judo.

Netaji Library in Thoothoor paid homage to its former Sports Manager by placing an Obituary Photo and the print copy of Thoothoor.COM message in front of NLT.

URL-1: http://www.thoothoor.com/v5/delegates_message_fb.asp?dmFN=798598858815759
URL-2: http://www.thoothoor.com/v5/ViewAlbum.asp?album=karatenayakam


What is New in Thoothoor.COM?

St.Thomas Community Hall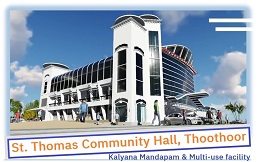 Parishes in Thoothoor Forane


Our Location Map