Bulletin Board . . . . . ?

Mr. Franklin from Thoothoor passed away
-

[Added @ 08-04-2019@18.36.37(IST)-]
Mr.Franklin from Thoothoor passed away yesterday, 07th Apr 2019. Farnklin, who was under treatment for various health issues also met with a road accident few days ago. The funeral mass will be held at 4.00pm on Tuesday 9th Apr 2019 at St.Thomas Forane Church, Thoothoor.

Mr.Franklin was living with wife Mrs.Prema, and children Mr. Prabhu Franklin, Mrs. Bisli Franklin. Let us pray for the repose of the departed soul.


Thank you all . . . for your suggestions on the "what-next" evolution of the website!

WaTCH THiS SPaCe!


What is New in Thoothoor.COM?
Thoothoor Parish page is updated !

ENLARGE GO


St.Thomas Community Hall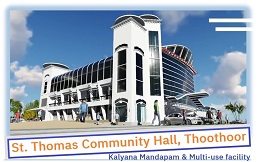 Parishes in Thoothoor Forane





Our Location Map