Bulletin Board . . . . . ?

Mr. Alex from Thoothoor passed away
-

[Added @ 01-02-2019@23.56.57(IST)-]
Mr. Alex Porupeenappan from Thoothoor passed away today, 1st Feb 2019 at the age of 83 due to age related health issues. Mr. Alex, a native of Pulluvilai, married in Thoothoor and worked as a supervisor in Lloyd Bitumen Products Private Limited in Chennai. After retirement, he relocated to Thoothoor. Mr. Alex is husband of Mrs. Margret Alex and father of Mr. Jude Jose.

The funeral mass will be held at 9 AM on Monday, 4th Feb at St. Thomas Forane Church Thoothoor.


Thank you all . . . for your suggestions on the "what-next" evolution of the website!

WaTCH THiS SPaCe!


What is New in Thoothoor.COM?
Thoothoor Parish page is updated !

ENLARGE GO


St.Thomas Community Hall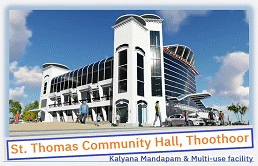 Parishes in Thoothoor Forane


Our Location Map