Bulletin Board
'Bulletin Board' is a facility in this website using which Thoothoor.com community members can publish general information, commercial messages, obituary messages, and other messages. If you are a Thoothoor.com community member and wanted to add a message in this bulletin board, please click here

Former KRYC Player Mr. Devadasan from Thoothoor passed away
-

[Added @ 05-01-2019@15.26.58(IST)-]
Mr. Devadasan from Thoothoor, a known KRYC football player, passed away at the age of 63. He was suffering for kidney related ailment recently and was under treatment for the same. An operation was scheduled but he died in Trivandrum Jubilee hospital before the operation.

Other KRYC players recalls that Mr. Devadasan was a friendly player and had lost one of his toe in the leg while playing football.

The funeral mass will be at 4 PM on 7th January 2019 at St.Thomas Forane Church Thoothoor. Let us pray for the soul of Devadasan to rest on peace.



St.Thomas Community Hall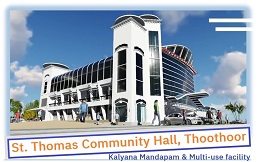 Parishes in Thoothoor Forane





Our Location Map