Bulletin Board . . . . . ?

Titus from Thoothoor died of Liver Cancer
-

[Added @ 25-09-2018@16.19.33(IST)-]
Mr. Titus from Thoothoor (Age 51, widely known as Kannan Titus) passed away today 25th Sept 2018 due to liver cancer. Titus was diagnosed for liver cancer at the final stage just one month before and was taking treatment for the same from home. Yesterday when the condition worsened, he was taken to a hospital in Trivandrum but died today early morning in the hospital.

The burial mass will be held at 4 pm on 26th Sept 2018 at St. Thomas Forane Church Thoothoor.


Thank you all . . . for your suggestions on the "what-next" evolution of the website!

WaTCH THiS SPaCe!


What is New in Thoothoor.COM?
Thoothoor Parish page is updated !

ENLARGE GO


St.Thomas Community Hall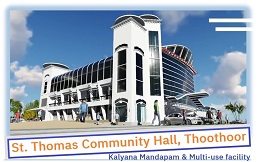 Parishes in Thoothoor Forane





Our Location Map