Bulletin Board . . . . . ?

37 years old Rajesh from Thoothoor died in a two-wheeler accident
-

[Added @ 12-07-2018@20.45.01(IST)-]
Rajesh from Thoothoor expired in a road accident today, 12th July 2018. Rajesh was on his way to Puthukkadai from Thoothoor when he met with this deadly accident. He was first taken to a hospital in Marthandam, and then to another hospital in Trivandrum, but nothing could be done as the condition was beyond control.

37 years old Rajesh is son of Mr. Christhophen & Mrs. Jesintha from Thoothoor; and was surviving with wife and two kids.


Thank you all . . . for your suggestions on the "what-next" evolution of the website!

WaTCH THiS SPaCe!


What is New in Thoothoor.COM?
Thoothoor Parish page is updated !

ENLARGE GO


St.Thomas Community Hall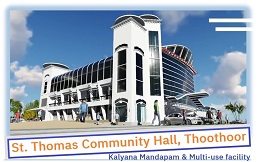 Parishes in Thoothoor Forane





Our Location Map