Bulletin Board . . . . . ?

Jegan Junior from E.P.Thurai expired in an accident
-

[Added @ 01-07-2018@19.52.26(IST)-Edited @ 02-07-2018@08.07.53(IST)]
Widely known football player Jegan Junior (34) from Eravi Puthenthurai expired on 1-7-2018. He had met with a two wheeler accident 2 days before while he was on his way to Trivandrum from E.P.Thurai. He lost the consciousness on the spot and died in the hospital. His funeral mass is at 11 AM on Monday 2nd July 2018 at St.Catherine Church in E.P.Thurai.

Jegan played in the prestigious Santhosh Trophy tournament many times in the past for Tamilnadu State and Indian Railway. Jegan is a friendly person and had played for NLT also in the past.


Thank you all . . . for your suggestions on the "what-next" evolution of the website!

WaTCH THiS SPaCe!


What is New in Thoothoor.COM?
Thoothoor Parish page is updated !

ENLARGE GO


St.Thomas Community Hall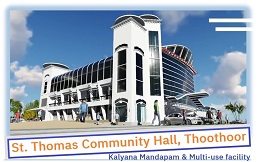 Parishes in Thoothoor Forane





Our Location Map