Bulletin Board . . . . . ?

Seminar on 'Study guidance to get government Jobs' at CPD Nagercoil for Caostal people
-

[Added @ 27-09-2017@11.40.36(IST)-]
Coastal Peace and Development (CPD) is organizing a study guidance class for students who wish to get government department jobs. Eminent persons will provide useful information and tips to aspirants. It will happen on 29/09/2017(Friday) at CPD office, Nagercoil (Kottar Bishop's house campus) from 9.30 am to 4.00pm. Lunch will be provided. From 8 Std qualified to college students, teachers, parents and social workers can participate in this seminar. Rev. Dr. Nazaren Soosai, Bishop of Kottar diocese will inaugurate this function. Contact Numbers: 9443159543, 04652-228857, 04652-238911.


Thank you all . . . for your suggestions on the "what-next" evolution of the website!

WaTCH THiS SPaCe!


What is New in Thoothoor.COM?
Thoothoor Parish page is updated !

ENLARGE GO


St.Thomas Community Hall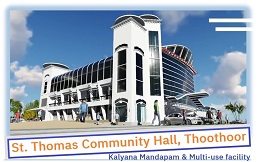 Parishes in Thoothoor Forane




Our Location Map