Bulletin Board . . . . . ?

A house under construction in Thoothoor using Interlock Bricks method
-

[Added @ 30-08-2017@13.30.27(IST)-Edited @ 03-09-2017@21.00.42(IST)]
Experimenting new ideas is differentiating factor for the people in Thoothoor. An young fisherman Mr Rajesh from Thoothoor, after learning about the benefits of constructing house using interlock bricks, decided to use that for his house even though no one have used this approach in Thoothoor before. House construction using interlock bricks, as explained by Rajesh, are cost effective, stronger, and provides comparatively far better atmospheric comfort. Without outer wall plastering, this house looks more beautiful. Trained construction workers from Kerela are brought here to do this cement free interlock bricks construction. More than anything what Rajesh was most interested to adopt new inventions boldly and make some difference while building a house for himself. The house is located in St.Thomas Nagar and expected to be ready by early 2018.

Rajesh is son of Mr. Melkias and Mrs. Prijit Mary from Thoothoor. His wife Mrs Lisha and two kids are excited that Rajesh is building a house for them with some speciality. Visit URL-1 for the photos from the site and the close up look of the interlock brick. Visit URL-2 for a video that shows the construction in progress.

URL-1:
http://www.thoothoor.com/v5/ViewAlbum.asp?album=InterlockBricksHouse_Aug201 .....
URL-2:
https://www.youtube.com/watch?v=qpVTNbn6NX4

Thank you all . . . for your suggestions on the "what-next" evolution of the website!

WaTCH THiS SPaCe!


What is New in Thoothoor.COM?
Thoothoor Parish page is updated !

ENLARGE GO


St.Thomas Community Hall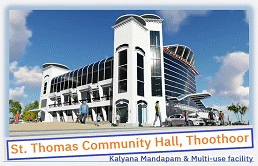 Parishes in Thoothoor Forane





Our Location Map