Bulletin Board . . . . . ?

Mr. Biju Raj, a youth aged 28, from Thoothoor dies of blood cancer
-

[Added @ 02-05-2017@16.21.12(IST)-]
Mr. Biju Raj from Thoothoor aged (28) died today 2 nd May 2017 in a Chennai hospital due to blood cancer. Biju was a BE Electrical and Electronics engineer and was working in Qatar. He was diagnosed with blood cancer 8 months ago when he vomited blood all of a sudden.

Biju is son of Mr. Franklin and Mrs.Prema from Thoothoor. The funeral will be held in Thoothoor tomorrow, 3rd May 2017 at 4.00pm.


Thank you all . . . for your suggestions on the "what-next" evolution of the website!

WaTCH THiS SPaCe!


What is New in Thoothoor.COM?
Thoothoor Parish page is updated !

ENLARGE GO


St.Thomas Community Hall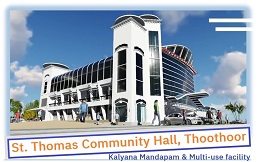 Parishes in Thoothoor Forane




Our Location Map