Bulletin Board . . . . . ?

Polio drop will be given to children on 30th April,2017
-

[Added @ 29-04-2017@16.08.07(IST)-]
Polio drops will be given to all children below age of five ,by special polio eradication camps on 30/04/2017 .Officials said that to prevent any chances of the resurgence of polio transmission due to wild polio virus, the camps are conducted and asked parents to bring their children to the camp and get vaccinated.


Thank you all . . . for your suggestions on the "what-next" evolution of the website!

WaTCH THiS SPaCe!


What is New in Thoothoor.COM?
Thoothoor Parish page is updated !

ENLARGE GO


St.Thomas Community Hall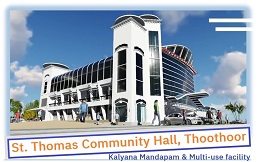 Parishes in Thoothoor Forane





Our Location Map