Bulletin Board . . . . . ?

Mr.Soundar Rajan new coach for Chennai City FC
-

[Added @ 11-02-2017@12.07.08(IST)-]
The Chennai City FC's new coach Mr.Soundar rajan will produce his team's strength in the match against Mumbai FC on Saturday 11/02/2017 (live on TEN 2 ) at 7.05pm. On going I-League football tournament ,the Chennai city fc had been failing in 5 matches ,so the management is not happy with this results and coach Robin charles raja failed to field local players like Raegan ,Rajin etc.,so the managment appointed Mr.Soundar Rajan ' we have to go for the win'' hoping the new coach

URL-1: http://www.thehindu.com/sport/football/Mumbai-FC-Chennai-FC-in-search-of-a- .....

Thank you all . . . for your suggestions on the "what-next" evolution of the website!

WaTCH THiS SPaCe!


What is New in Thoothoor.COM?
Thoothoor Parish page is updated !

ENLARGE GO


St.Thomas Community Hall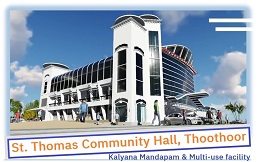 Parishes in Thoothoor Forane



Our Location Map