Bulletin Board . . . . . ?

Mr. John Rodel (Bellary Sir) from Thoothoor passes away
-

[Added @ 11-01-2017@09.29.22(IST)-Edited @ 12-01-2017@11.08.41(IST)]
| | |
| --- | --- |
| | Mr.John Rodel (widely known as Bellary Sir and Ex KRYC Key Player) from Thoothoor passed away on 11th Jan 2017 at the age of 75 years. He was under treatment for many months for various health issues and got admitted to hospital few days back where his condition went bad in the midnight on 10th Jan causes his death in the early hours on 11th Jan. The funeral will be held on 12th Jan at 3pm in St.Thomas Forane Church Thoothoor. He was survived by wife Mrs. Siluvamma Rodel, sons Sibi Rodel, Tony Rodel, and daughter Mini Rodel. |

Thank you all . . . for your suggestions on the "what-next" evolution of the website!

WaTCH THiS SPaCe!


What is New in Thoothoor.COM?
Thoothoor Parish page is updated !

ENLARGE GO


St.Thomas Community Hall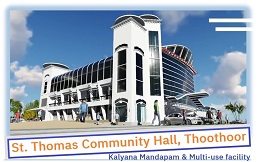 Parishes in Thoothoor Forane




Our Location Map