Bulletin Board . . . . . ?

Looking for Java/J2EE Developers
-

[Added @ 29-09-2016@23.24.31(IST)-]
Requirements:
Experience 2-10 years of Java/J2EE experience
Qualification :B.E/M.C.A/B.Sc
Compensation:Competetive Salary(DOE Min 30K)
No of Openings :2
Should be able to join in 2 weeks
Company Name:TIBS
Location: Nagercoil


Email-1: If interested, please send in your resumes to marto.gracious@gmail.com (Note: Email-id displayed here is script protected from web crawl programs)
URL-1: http://tibs.me/

Thank you all . . . for your suggestions on the "what-next" evolution of the website!

WaTCH THiS SPaCe!


What is New in Thoothoor.COM?
Thoothoor Parish page is updated !

ENLARGE GO


St.Thomas Community Hall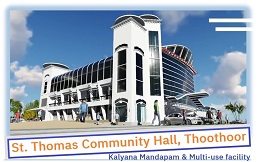 Parishes in Thoothoor Forane


Our Location Map