Bulletin Board . . . . . ?

Join the Fight Against Zika.
-

[Added @ 29-07-2016@12.50.17(IST)-]
Zika is a global health emergency that could affect 4 million people in the next year.


What the Zika virus is and why it matters.

The Zika virus is in the same biological family as yellow fever, dengue and West Nile viruses—viruses that are mostly transmitted to humans by a mosquito or tick bite. Since it was first identified in 1947, in the Zika forest of Uganda, Africa, scientists have documented the spread of the Zika virus across Asia, the Pacific and more recently the Americas.

Fast fact: The World Health Organization has declared the Zika virus a global public health emergency, which could affect 4 million people by 2017.

Since 2015, however, we've seen a rapid rise in infections in the Americas coinciding with an increase in cases of the brain disorder microcephaly and other neurological conditions that develop when infants are born to mothers who contract the virus while pregnant.

Although there are efforts to eradicate the specific mosquito species that spread Zika, the disease is likely to continue to spread rapidly in the Americas. This is because people in this region have not been exposed to the virus previously and have little immunity to it.

Whether the disease is contracted by mosquitos or other means, public and private sectors must come together to address this global issue.


Thank you all . . . for your suggestions on the "what-next" evolution of the website!

WaTCH THiS SPaCe!


What is New in Thoothoor.COM?
Thoothoor Parish page is updated !

ENLARGE GO


St.Thomas Community Hall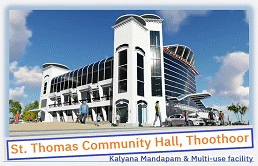 Parishes in Thoothoor Forane





Our Location Map