Bulletin Board . . . . . ?

Mr.Marphin from Chinnathurai passes away due to liver cancer
-

[Added @ 27-01-2016@21.55.48(IST)-]
Mr.Marphin from Chinnathurai (aged 36) expired on today 27th Jan 2016 at Chinnathurai. He was suffering from liver cancer for the past few days and had his last breathe on today at his residence. The funeral mass is at 3PM on 28th January 2016 at St. Judes Church, Chinnathurai.

Mr.Marphin is son of Mr.Sammicheal from Chinnathurai and he was living with wife Mrs.Filma and two children. Let us pray for the repose of the departed soul.



What is New in Thoothoor.COM?

St.Thomas Community Hall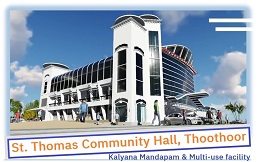 Parishes in Thoothoor Forane




Our Location Map