Bulletin Board . . . . . ?

TODAY IS KALAM'S 84 TH BIRTH DAY
-

[Added @ 15-10-2015:9.15.25(IST)-]
KALAM'S WORDS :
1. DREAMS: " Is not what you see in sleep. Is the thing which doesn't let you sleep"
" you have to dreams before your dreams can come true "
2. Confidence and hard work: " It is the best medicine to kill the disease called failure. It will make you a successful person "
3. Involvements: "without your involvement you can't succeed with your involvement you can't fail"
4. Friends: " one best book is equal to 100 good friends but one good friend is equal to a library……."
5. Life and time: "Life and time are the world's best teachers. Life teaches us to make good use of time and time teaches us the value of life.

The last word of our good teacher:
His last words, to his aide Srijan Pal Singh, were reportedly: 'Funny guy! Are you doing well?'
Awards and honours:
Kalam received honorary doctorates from 40 universities. The Government of India honoured him with the Padma Bhushan in 1981 and the Padma Vibhushan in 1990 for his work with ISRO and DRDO and his role as a scientific advisor to the Government. In 1997, Kalam received India's highest civilian honour, the Bharat Ratna, for his contribution to the scientific research and modernisation of defence technology in India. In 2013, he was the recipient of the Von Braun Award from the National Space Society 'to recognize excellence in the management and leadership of a space-related project'.
Following his death, Kalam received numerous tributes. The Tamil Nadu state government announced that his birthday, 15 October, would be observed across the state as 'Youth Renaissance Day;' the state government further instituted the 'Dr. A.P.J. Abdul Kalam Award,' constituting an 8-gram gold medal, a certificate and 500,000 (US$7,500). The award will be awarded annually on Independence Day, beginning in 2015, to residents of the state with achievements in promoting scientific growth, the humanities or the welfare of students.
Several educational and scientific institutions and other locations were renamed or named in honour of Kalam following his death:
Educational and scientific institutions:
An agricultural college at Kishanganj, Bihar, was renamed the 'Dr. Kalam Agricultural College, Kishanganj' by the Bihar state government on the day of Kalam's funeral. The state government also announced it would name a proposed science city after Kalam.
Uttar Pradesh Technical University (UPTU) was renamed 'A.P.J. Abdul Kalam Technical University' by the Uttar Pradesh state government.
A new research institute for digestive diseases research in Travancore.
A new academic complex at Mahatma Gandhi University in Kerala.
A new science centre and planetarium in Lawspet, Puducherry.
Islands:
Wheeler Island, a national missile test site in Odisha, was renamed Abdul Kalam Island in September 2015.


Thank you all . . . for your suggestions on the "what-next" evolution of the website!

WaTCH THiS SPaCe!


What is New in Thoothoor.COM?
Thoothoor Parish page is updated !

ENLARGE GO


St.Thomas Community Hall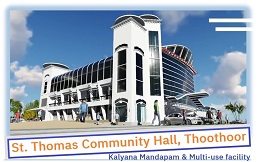 Parishes in Thoothoor Forane



Our Location Map