Bulletin Board . . . . . ?

Hiring: Java Professionals
-

[Added @ 15-7-2015:11.5.41(IST)-]
Dear Colleagues,


3i Infotech has a distinctive challenge ahead to meet our growth requirements. To accomplish this, we must recruit the best talent in the industry. We believe that our organization's most valuable asset is our employees and good employees are hard to find. That is why we need your help, if you think any of your friends suit the open positions, please ask them to apply for the below job opening.

Hiring: Java Professionals

Work Location: India, Middle East, Malaysia, Singapore

Eligibility: Java professionals with 2 to 10 years experience
Years of experience
Time slots

2 - 5 years
10.00 am to 12.00 Noon

5 - 7 years
12.30 pm to 2.30 pm

8+ years
3.00 pm to 4.00 pm


Walk In with your updated resume, last 3 months salary slips, photo identity proof and registration letter.

***Register yourself by mailing your updated resume to location POC before 10 July, 2015 5.00 PM.

***Registration Compulsory

Mumbai

3i Infotech Limited
Tower No 5, 4th Floor,
International Infotech Park
Vashi, Navi Mumbai 400 703
Ms. Frany Shah
frany.shah@3i-infotech.com
Contact: 022- 71048550

Chennai
3i Infotech Limited
Prince Infocity K II, 3rd Floor,
283/4, Rajiv Gandhi Salai (OMR)
Kandanchavadi. Chennai 600096
Ms. Vidya K
vidya.k@3i-infotech.com
Contact: 044- 66990408


Noida
3i Infotech Limited
B-56, Sector -57,Gautam Budh Nagar
Near Park Plaza Hotel.
Noida UP 201301
Mr. Deepak Mishra
deepak.mishra@3i-infotech.com
Contact: 120-6117658


Bangalore
3i Infotech Limited
3rd Floor, 'D' Block, No: 301 & 302, RMZ entennial
Plot No 8D. Doddanukundi Industrial Area,ITPL Road. Mahadevpura Post. Bengaluru 560048
Ms. Sheetal Tirkey
sheetal.tirkey@3i-infotech.com
Contact: 080-67710392

Hyderabad
3i Infotech Limited
ICICI Towers, 3rd Tower,
South Wing. Near Wipro.
Gachibowli. Hyderabad 500032
Ms. Ramya Veerla
ramya.veerla@3i-infotech.com
Contact: 040-67313295

Regards
Human Resources Management Group







What is New in Thoothoor.COM?

St.Thomas Community Hall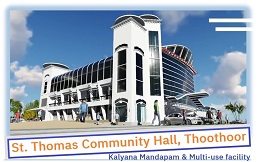 Parishes in Thoothoor Forane



Our Location Map