Bulletin Board . . . . . ?

Plot for sale in near Our Thoothoor School.
-

[Added @ 1-3-2015:2.1.32(IST)-]
Plot for sale in Thoothoor near our thoothoor school(old Kulam), st.Thomas nagar colony (Samathuvapuram). We plan to sell up to 18 cents, road facility up to plot area.
Contact no: (+91) - 91763 28577
Mail id: christudasj@gmail.com
Price : Market price


Email-1: (Note: Email-id displayed here is script protected from web crawl programs)

Thank you all . . . for your suggestions on the "what-next" evolution of the website!

WaTCH THiS SPaCe!


What is New in Thoothoor.COM?
Thoothoor Parish page is updated !

ENLARGE GO


St.Thomas Community Hall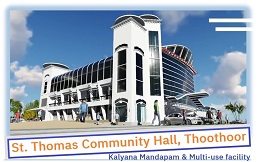 Parishes in Thoothoor Forane



Our Location Map