Bulletin Board . . . . . ?

Message from Dr.Vareethiah Konstantine
-

[Added @ 5-2-2015:12.28.15(IST)-]
The Madras Political School, a group of forward thinking people have invited me to deliver a Talk on Sunday, 8th Feb. 2015/ 10.30 am., at BEFI ARANGAM, KAMARAJAR ARANGAM VIEW, TEYNAMPETTAI, CHENNAI. Theme: THAMILAGA KADARKARAYUM SOOLALIYAL SAMOOGA SIKKALGALUM. Those of our friends at Chennai who could make it are most Welcome.


Thank you all . . . for your suggestions on the "what-next" evolution of the website!

WaTCH THiS SPaCe!


What is New in Thoothoor.COM?
Thoothoor Parish page is updated !

ENLARGE GO


St.Thomas Community Hall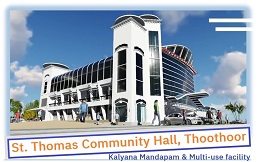 Parishes in Thoothoor Forane




Our Location Map