Bulletin Board . . . . . ?

Wish you Netaji Subhas Chandra Bose 118th Birthday
-

[Added @ 23-1-2015:8.9.11(IST)-]
Dear Friends and Netaji admirers,

Today 23rd Jan 2015, on the 118th Birth Anniversary of our beloved Netaji Subhas Chandra Bose, I wish you all happy birthday. Let us remember this great leader on this auspicious day and share the wishes with one and all.

I would like to attach a famous quote of Netaji along with my wishes...
'Reality is, after all, too big for our frail understanding to fully comprehend. Nevertheless, we have to build our life on the theory which contains the maximum truth. We cannot sit still because we cannot, or do not, know the Absolute Truth.'

-with love, Maria Vijayan


Thank you all . . . for your suggestions on the "what-next" evolution of the website!

WaTCH THiS SPaCe!


What is New in Thoothoor.COM?
Thoothoor Parish page is updated !

ENLARGE GO


St.Thomas Community Hall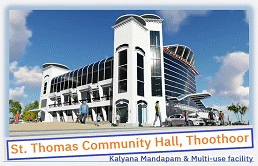 Parishes in Thoothoor Forane


Our Location Map