Bulletin Board . . . . . ?

OBITUARY Message of Mr.Muthayyan's First Anniversary By Dr.Vareethiah Konstatine
-

[Added @ 4-12-2014:21.34.39(IST)-]
On 4th December 2014 we observe the first death anniversary of Mr. Muthayyan, a teacher by profession and a grammarian by passion. The Thoothoor Island can boast not only of Shark Hunting and Foot ball, but artists, poets and great leaders also. Yet another jewel in the crown of Thoothoor Island is Mr. Muthayyan, though not well known in wider circles. He was a celebrated resource and a ready reckoner to the English Teachers in Kanyakumari District. He was a good verse writer and a voracious reader too. Unassuming and simple, he devoted his career to the cause of School Grammar Teaching and it had its rewards. Yet, much before he could consolidate and record this expertise in practical grammar for the larger benefit of teachers and rural students, had tumor taken him away. Some four years back when I happened to chat with him, he faintly mentioned of a collection of poems he had written on special occasions, mostly unpublished. I advised him to have them published, yet, for reasons many, he refrained from it. I'm afraid we have lost both his grammar expertise and Verses for good. Mr. Muthayyan is our pride and an example so dear to emulate. Mr. Muthayyan is survived by his wife, a son and a daughter. We thank his family for this precious gift called MR. MUTHAYYAN.


Thank you all . . . for your suggestions on the "what-next" evolution of the website!

WaTCH THiS SPaCe!


What is New in Thoothoor.COM?
Thoothoor Parish page is updated !

ENLARGE GO


St.Thomas Community Hall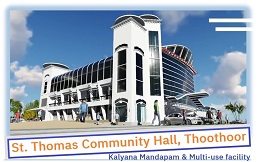 Parishes in Thoothoor Forane





Our Location Map