Bulletin Board . . . . . ?

Memorandum to Chief Minister urging to persuade the Indian government to retrieve Katchatheevu
-

[Added @ 7-7-2014:18.32.31(IST)-]
TNFIDET (TN fishermen development trust) believes that the answer to Tamil Nadu fishermen's problem could lie in the Netherlands. TNFIDET founder president P. Justin Antony, said that India could annul the bilateral agreement and wrest control of Katchatheevu by citing the violations committed by the Sri Lankan navy.

The fishermen's collective has submitted a memorandum to Chief Minister J. Jayalalithaa urging her to persuade the Indian government to move the international court to retrieve Katchatheevu islet, which India ceded to Sri Lanka in 1974. TNFIDET cited the cause celebre of Palmas in which the Netherlands retrieved Palmas Island (Miangas) near the Philippines from the US through Permanent Court of Arbitration in 1928. Visit URL-1 for the details of this memorandum.

URL-1: http://www.deccanchronicle.com/140704/nation-current-affairs/article/strong .....

Thank you all . . . for your suggestions on the "what-next" evolution of the website!

WaTCH THiS SPaCe!


What is New in Thoothoor.COM?
Thoothoor Parish page is updated !

ENLARGE GO


St.Thomas Community Hall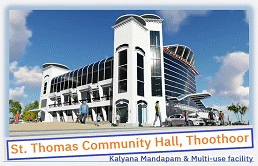 Parishes in Thoothoor Forane


Our Location Map