Bulletin Board . . . . . ?

FOOTBALL TELECAST
-

[Added @ 3-7-2014:11.49.20(IST)-]
Dear please telecast the interview of sun news with antony xaviour(Gandhi)about football which was telecast on this monday between 5 to 5.30 pm and 8.30 to 9 pm ,please check the you tube and plat in our site .thank you

Email-1: (Note: Email-id displayed here is script protected from web crawl programs)
URL-1: http://thoothoor.com

Thank you all . . . for your suggestions on the "what-next" evolution of the website!

WaTCH THiS SPaCe!


What is New in Thoothoor.COM?
Thoothoor Parish page is updated !

ENLARGE GO


St.Thomas Community Hall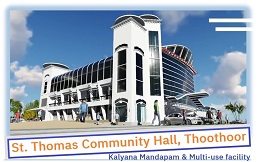 Parishes in Thoothoor Forane



Our Location Map