Bulletin Board . . . . . ?

Software Job Interview - at Cochin (Java, J2EE, Spring, Hibernate)
-

[Added @ 6-5-2014:16.42.14(IST)-]
Walk in Interviews: Exclusive for referrals from IBSians at Cochin
Software Engineer/Senior Software Engineer/Technical Lead/Solution Architect

Educational Qualification: B.Tech / M.Tech / MCA
Experience: 1 - 9 years
Job Location: Cochin
Key Skills: Java, J2EE, Spring, Hibernate

Venue Details
Cochin 10 May Saturday 2014, 9.30 AM to 2.00 PM
IBS Software Services
3rd floor, Leela Infopark,
Infopark Campus,
Kusumagiri PO, Kakkanad,
Cochin - 682030, India
Contact Person: Nobin K Johnson

Documents to be carried for the interview:

1.Latest resume
2.recent passport size photographs

As this is a referral interview, please write my name at the top of your Resume as SELVARAJ VIAGAPPAN (A-5040)

If anybody wants to contact me, please do so at 09567212494.

Regards,
Selva.



What is New in Thoothoor.COM?

St.Thomas Community Hall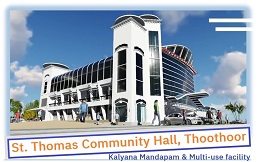 Parishes in Thoothoor Forane




Our Location Map