Bulletin Board . . . . . ?

Caution for cell tower near residents
-

[-Edited @ 2-8-2013:21.59.53(IST)]
An article published in The Times of India Mumbai Dated July,30,2013 headlined '4 from Vile Parle building with cancer, brain tumor blame it on cell tower'.

Four residents of a building in Vile Parle (W) have been diagnosed with cancer and brain tumor, which residents blame on a cell phone tower installed nearby in 2008. Experts said it was no coincidence that those residents of Hina Kunj at Church Road are battling with serious ailments and undergoing chemotherapy sessions daily though operators insisted that there was no conclusive evidence to link the two. Please visit URL-1 for more details.

An other related news published on July 31 , headlined 'Man dies of cancer, wife kills self in building with cell tower'. Visit URL-2 for more details

URL-1: http://m.timesofindia.com/city/mumbai/4-from-Vile-Parle-building-with-cance .....
URL-2: http://articles.timesofindia.indiatimes.com/2013-07-31/mumbai/40914105_1_ce .....


What is New in Thoothoor.COM?

St.Thomas Community Hall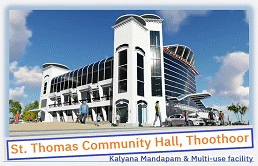 Parishes in Thoothoor Forane

Our Location Map