Bulletin Board . . . . . ?

LUCANA TRADING JOB RECRUITMENT
-

[Added @ 9-6-2013:14.48.45(IST)-]
WE ARE LOOKING FOR QUALIFIED STAFF'S IN OUR NITHRAVILAI BRANCH OFFICE. FOR MORE DETAILS PLEASE GO THROUGH ENCLOSED URL LINK. QUALIFIED CANDIDATES PLEASE SEND YOUR RESUME TO FOLLOWING EMAIL: lucana2011@hotmail.com, CONTACTS: LUCAS SURESH.

VISIT OUR WEBSITE www.lucanaintl.com FOR GET TO KNOW ABOUT OUR COMPANY PROFILE, PRODUCTS, SERVICES ETCC.

Email-1: (Note: Email-id displayed here is script protected from web crawl programs)
URL-1: http://file:///Users/apple/Desktop/LUCANA%20JOB%20OPENING%20.htm

Thank you all . . . for your suggestions on the "what-next" evolution of the website!

WaTCH THiS SPaCe!


What is New in Thoothoor.COM?
Thoothoor Parish page is updated !

ENLARGE GO


St.Thomas Community Hall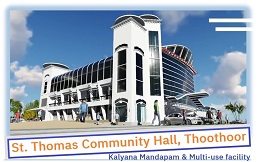 Parishes in Thoothoor Forane




Our Location Map