Bulletin Board . . . . . ?

TOI needs freelance writers - Message from Jom Jean
-

[Added @ 18-4-2013:11.39.14(IST)-]
The Times of India needs freelance writers (those with actual experience of writing on the real estate beat would be doubly welcome), to write for its Mumbai, Delhi and Pune-based real estate supplements. We are also looking to hire sub-editors, who will be based out of the Thane office. You can write to me on jhumur.ghosh@timesgroup.com or jhumurghosh@gmail.com


Email-1: (Note: Email-id displayed here is script protected from web crawl programs)

Thank you all . . . for your suggestions on the "what-next" evolution of the website!

WaTCH THiS SPaCe!


What is New in Thoothoor.COM?
Thoothoor Parish page is updated !

ENLARGE GO


St.Thomas Community Hall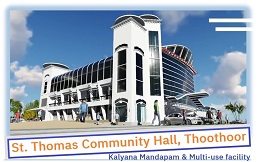 Parishes in Thoothoor Forane



Our Location Map