Bulletin Board . . . . . ?

Graphic Designer jobs in Wipro
-

[-Edited @ 9-4-2013:12.44.25(IST)]
Wanted Graphic Designer in Wipro Fresher to 2+yr experience.
Send your resume to vinoth.rajagopalan@wipro.com
Please mention Reference Name:Lakshmi Kanthan

Email-1: vinoth.rajagopalan@wipro.com (Note: Email-id displayed here is script protected from web crawl programs)

Thank you all . . . for your suggestions on the "what-next" evolution of the website!

WaTCH THiS SPaCe!


What is New in Thoothoor.COM?
Thoothoor Parish page is updated !

ENLARGE GO


St.Thomas Community Hall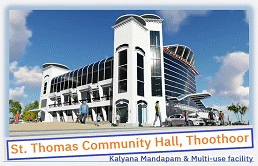 Parishes in Thoothoor Forane





Our Location Map