Bulletin Board . . . . . ?

ISRO job recruitment
-

[Added @ 23-2-2013:23.59.3(IST)-]
Recruitment of Scientist/Engineer 'SC' with BE/B.TECH OR Equivalent Degree in CIVIL, ELECTRICAL AND AIR CONDITIONING & REFRIGERATION

ADVERTISEMENT No. ISRO HQ(CEPO):ICRB:02:2013 DATED 22-02-2013

Indian Space Research Organisation [ISRO] is engaged in application of Space Science and Space Technology for the development of society at large and for serving the nation by achieving self-reliance by indigenously developing capability to design and develop Space Transportation Systems and Satellites.

The Civil Engineering Programme Office (CEPO) at ISRO Headquarters, Bangalore and Construction and Maintenance Division (CMDs) located at various ISRO Centres/Units are responsible for planning, design, construction and maintenance of all ground based structures buildings and associated utilities to cater to the Space Programme.

ISRO offers the position of Scientist/Engineer 'SC' in the pay band of Rs.15600-39100 with grade pay Rs.5400/- (Group 'A' Gazetted Post) to the young graduates in the following fields of (i) Civil; (iii) Electrical; and (iv) Air Conditioning & Refrigeration.

Visit the below links for more details such as Eligibility, Age Limit, Application & Selection Process, Pay & Allowances, etc.

Email-1: (Note: Email-id displayed here is script protected from web crawl programs)
URL-1: http://www.isac.gov.in/ced/advt.jsp
URL-2: http://dmieee0910.blogspot.in/

Thank you all . . . for your suggestions on the "what-next" evolution of the website!

WaTCH THiS SPaCe!


What is New in Thoothoor.COM?
Thoothoor Parish page is updated !

ENLARGE GO


St.Thomas Community Hall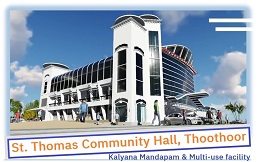 Parishes in Thoothoor Forane





Our Location Map