Bulletin Board . . . . . ?

ICAMTCS Live Webcasting in St Xavier Engineering college
-

[Added @ 24-1-2013:11.36.22(IST)-]
ICAMTCS stands International Conference for Applied Mathematics and Theoretical Computer Science and The conference takes place in St. Xavier's Catholic College of Engineering at Chunkankadai in Kanyakumari District (Tamilnadu).The conference scheduled for two days[ 24th and 25th January 2013].ICAMTCS 2013 encourages high-quality research in Mathematics and Theoretical computer science and brings together specialists and young researchers working in the area. The scientific program will include invited talks covering the areas of main interest, presentation of posters, and paper presentation sessions.More about the ICAMTCS and the Live webcasting in the below URLs

URL-1: http://www.icamtcs.com/
URL-2: http://www.icamtcs.com/live/

Thank you all . . . for your suggestions on the "what-next" evolution of the website!

WaTCH THiS SPaCe!


What is New in Thoothoor.COM?
Thoothoor Parish page is updated !

ENLARGE GO


St.Thomas Community Hall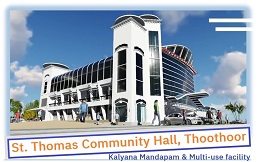 Parishes in Thoothoor Forane




Our Location Map