Bulletin Board . . . . . ?

Why is the Price of Gold Rising in India
-

[Added @ 10-1-2013:21.22.48(IST)-]
Now, today burning issue, 'Why is the Price of Gold Rising in India rapid speed?' As student of finance, I did its small research and reached on some results.
Aim of Writing this Content

1. India was the sparrow of gold. It means, when there was the big source of Gold in India, every home was decorated with gold. Now, why are we going to this bad situation. To know the reason behind this.

2. As per the culture of India, Gold is the pure metal. It does not destruct with the connection of water and air. There are also some scientific health benefits for wearing the Gold. That is the reason, every Indian men and women wore only Gold jewellery in the Ancient times. Gold was the sign of our prosperity. Still it is given to the woman on her marriage. So, it should be cheap because one side it will go outside the capacity of poor and middle community and other side, there is not easy for small traders to deal in it and it will increase the unemployment of the workers who make its jewellery by their hands. All business will be shifted to big MNC. So, it is very necessary to control it.

For more details please visit the below URL

URL-1: http://www.svtuition.org/2012/08/why-is-price-of-gold-rising-in-india.html

Thank you all . . . for your suggestions on the "what-next" evolution of the website!

WaTCH THiS SPaCe!


What is New in Thoothoor.COM?
Thoothoor Parish page is updated !

ENLARGE GO


St.Thomas Community Hall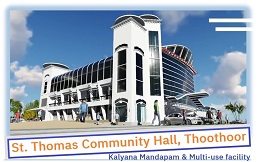 Parishes in Thoothoor Forane



Our Location Map