Thoothoor.com Members Directory
All members of Thoothoor.com community are listed in this page. Please find a member by name and click for profile details. Alphabatic filtering can also be used to locate a member.
Only logged-in Members can see the complete profile details (both public and protected information)
Others can only see the details, which are made public in the members profile.
Private: Only you can see private fields

Uthaya Kumar.
[Total: 1]


What is New in Thoothoor.COM?

St.Thomas Community Hall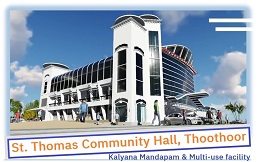 Parishes in Thoothoor Forane


Our Location Map